The announcement of the Union Bus Station's closing this week prompts a discussion about this block, and more specifically, the plans of a particular developer who has slowly been acquiring all of this block. So far, with the exception of 1 city-owned office building, and this bus station that is now closing, developer Nick Preftakes has been consolidating ownership of the block--a move which began right before the announcement of Devon Tower. Such timing has many in the community questioning to what extent Preftakes and Devon are privy to each other's plans.
The most-prime piece of downtown real estate
It seems obvious that a large development is going to occur soon. I have been wondering intently for the last 2 years what exactly is Preftakes' plan for this block. There are many reasons why this is now becoming the most prime piece of real estate in downtown. They are as follows:
1.
The incredible remaining historic fabric of this block, which includes three historic mid-rise buildings, and many other smaller historic buildings that form a cohesive streetwall along both Main and Hudson.
2.
The nearby $750 million investment of Devon across Hudson, including the Hudson Ave frontage which will include storefronts in the new Devon garage, the Devon auditorium, and a landscaped pocket park. Thousands of new employees.
3.
The improvement of Sheridan Ave further west in Film Row, which used to be known as "Skid Row"
4.
The rising prominence of the Arts District and the opportunity gap for more development in that district.
5.
The overhaul of the Myriad Gardens to the immediate SE as a true, active space, and more than just botanical gardens. It will now contribute to the vibrancy and activity of downtown.
6.
The new downtown elementary school proposed for the site immediately to the SW, this will serve as one of the primary anchors of the downtown residential community, particularly those more family-oriented future residents.
7.
The Stage Center across the street, and the countless other arts amenities within a 2-3 minute walk.
It is clear that the redevelopment of the block needs to occur with someone who embraces all of these reasons for the block's importance, and more. You can't redevelop this block and oppose Devon Tower or the Myriad Gardens, just as you can't redevelop this block and not recognize its historic importance. Granted, no buildings on this block formerly served as a state capital, but it is significant in the sheer volume of historic fabric that remains mostly in-tact on this block. Anyone who doubts this, please find a block that has more in-tact historic fabric. These buildings are unique and have a huge amount of character, they provide an opportunity for a unique development.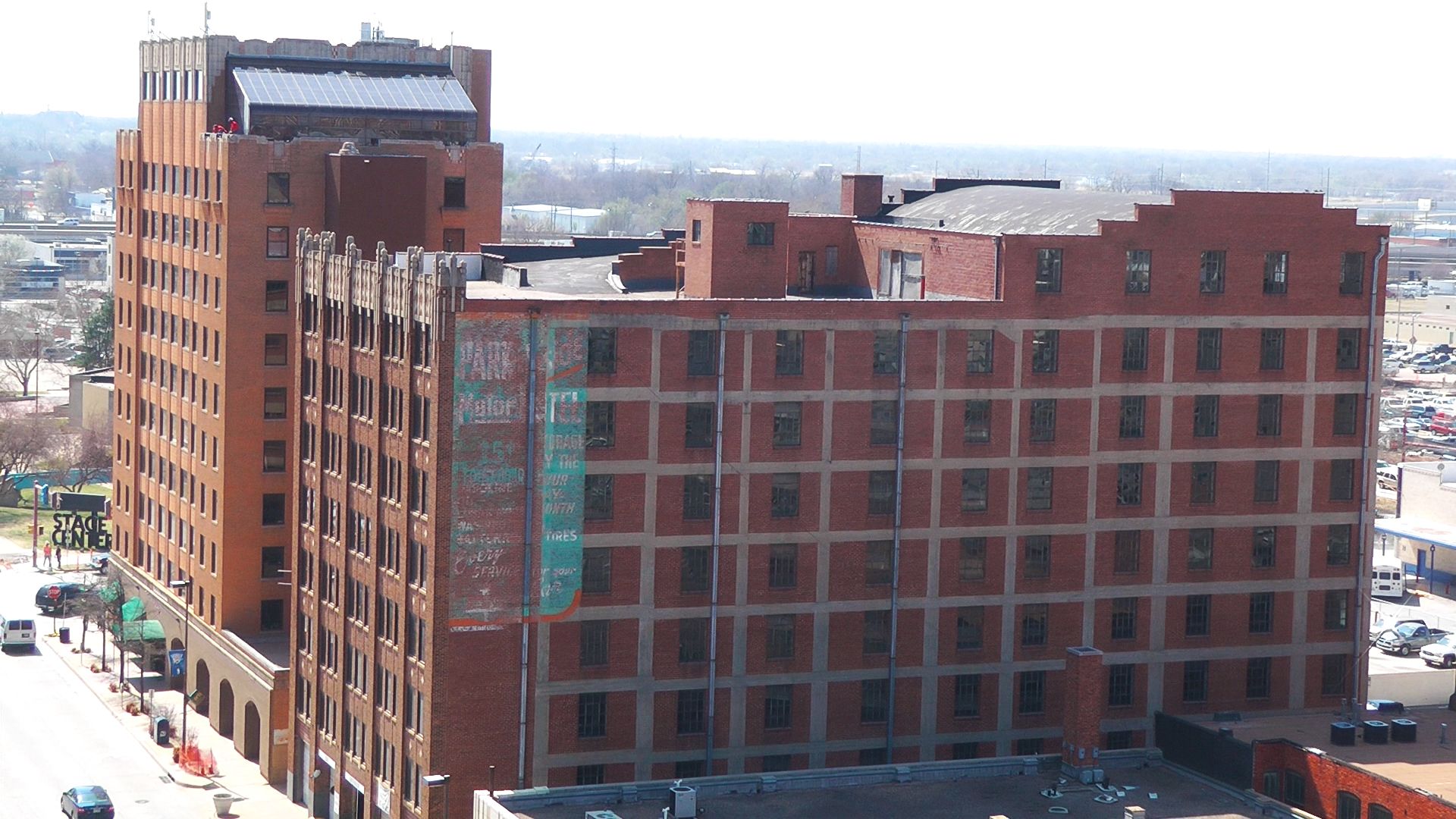 By embracing the urban and gritty character, a developer could connect this block to the history of the city and to the people who make up downtown--a move which would ensure the success of a future development. Compare it to the local attachment of Bricktown. People like historic buildings, especially when it is "made" historically relevant. Bricktown, before it was "Bricktown," was just an old warehouse district, obviously nowhere near as historically relevant as everything else we've lost. But in having so little remaining built environment from the original city, we're willing to wholeheartedly embrace a looser definition of historic relevance, and that is why we now have the Bricktown historic district.
We should push for more "Bricktown" opportunities, and this could be one. The block's mid-rises, red-brick buildings of enormous quality, could make brilliant loft redevelopments. It would cost money, it would create revenue. Yes, it would involve a development deal, and making it work. The smaller buildings should be preserved, at the very least, the ones fronting Main and Hudson--these buildings fill gaps, provide invaluable character, and contribute to a cohesive streetwall--one of the things that make that stretch of Hudson and Main so attractive. The lower-rise buildings actually make perfect retail spaces--here you have a group of buildings that seems to be strategically positioned for retail, with consolidated ownership so that several retailers could come in and build necessary retail synergy,and lots of urban grit and style--the space in the former Carpenter Square Building (pictured) just screams "Urban Outfitters," whereas I could see the GAP locating in one of the Main Street storefronts. With plenty more room for other retailers, and the ability to add rooftops (housing) above, this is a great place to build mixed-use critical mass that is severely lacking downtown.
The point though is that this would be a different kind of historic district from Bricktown, which is what makes it a cool idea--this block has a decidedly more Art-Deco flair, and much denser, taller buildings. Not so much industrial, but more cosmopolitan, potentially. We don't have this kind of historically-preserved cluster in OKC--I would compare it to Washington Avenue in Downtown St. Louis, the Old Bank District in LA, or the Mercantile Bldg in Dallas. This can bring a new dimension to OKC. This could give us historic clusters of many unique flavors, with the gritty industrial vibe of Bricktown, the hey-day auto showcase vibe of Automobile Alley, and the Art-Deco cosmopolitan vibe that this block could showcase. Here, a developer could actually brand his development with its own district identity, although it should probably have an arts-based theme. This could be a huge boon to branding.
It is important that the Union Bus Station also be preserved. This is a building that could possibly make an awesome diner space. The awning next to the bus-loading area would make an awesome outdoor seating area overlooking the Myriad Gardens. The building, with its historic signage and its folksy Art-Deco architectural elements make it an awesome place to commemorate downtown nostalgia. This, if anywhere, would be a great place to open up a cool diner. It seems to be just the right size for that, too.
The question is, would Preftakes be more interested in historic preservation, or in new development? Well in the past, he's done both. Preftakes got started in the 90s, as one of downtown's very-first housing developers, with a loft project right off North Broadway. But should Preftakes be looking for brand-new revenue streams in this block, I would say there is room for new things, but in very confined spaces. The lower-rise storefronts could be added-onto, with new housing on top with staggered facades. It just depends exactly how much space is needed to make the project large enough for significant variations. In a smaller building you can't provide different price points, in a larger development that is more feasible. In the 3 mid-rise "towers" on the block, one could easily get 100 residential units, probably many more if they are smaller apartments. In the lower-rise storefronts there is room, depending whether the floors above will be connected and included in retail spaces (i.e., for larger retailers), you could presumably squeeze 100,000 to 200,000 sf of new retail space. That seems enough to get a retail critical mass going. As already discussed, the bus station is the perfect size and configuration for a new restaurant. In the middle there is currently a parking lot--the middle lot seems to be a good fit for structured parking that would even have about 100 feet of frontage on Walker--for ingress and egress. Along Sheridan, one building has already been demolished in the last year. The Lunch Box is presumably next. If new development space is necessary, here along Reno (between the bus station and the Hightower Bldg) is a very large lot that could make way for new development, across from the Stage Center. Here, a developer such as Preftakes could build whatever he wants, whether it be office, or an even larger concentration of residential--a use that would seem strategic given the nearby Devon Tower.
Please, no SandRidge!
But one thing is clear, the historic context of this block must be preserved. I would be okay with letting the Lunch Box go to consolidate some empty lots fronting Sheridan for new development. Actually, I would rather that one building have not been demolished, and I would rather see the Lunch Box either stay there or a cool new use for the building, but this is the extent of demolition that I'd be willing to see. I can see where it might make more sense from a development-financing standpoint to consolidate those lots. But one thing is clear, this block is primed to become one of the largest mixed-use developments that downtown has ever seen. The rumored involvement of a particular energy corporation across the street also brings intriguing possibilities. For one, I am excited that players with so much available capital are interested in doing things downtown. I look forward to seeing what comes next.
But, please, no SandRidge! We still have huge respect for Devon! We're talking about a name that could presumably have its way (as opposed to a particular wanna-be "energy giant" under the leadership of a strongly disliked personality), but here is hoping that "Devon's way" continues to be the best way for downtown.