Take me to the river
And wash me down
Won't you cleanse my soul
Pu
t my feet on the ground
Take me to the rive
r
Take Me to the River is one of those classic rock songs that I can actually stand to be played..whether it's the version with Al Green, B.B. King, Sheryl Crowe, and Lennie Kravitz..or the Talking Heads, the Commitments, Phish, Annie Lennox, Dave Matthews, Foghat..or anyone else except the Grateful Dead. It's a great song because it evokes base feelings of folk American culture. Everybody likes rivers, lakes, and beaches. Bodies of water are just natural places to gather and relax. Think of all of the great cities..almost all of them are on rivers, or other bodies of water. New Orleans, Memphis, St. Louis, Dubuque, and Minneapolis-St. Paul are all along the Mississippi. Kansas City and Omaha are on the Mo'. Little Rock, Tulsa, and Wichita are on the Arkansas. And so on.
Oklahoma City used to be an exception to the rule. Now that we've decided we DON'T want to be "LA on the Plains" we're doing what we can to bring our river back. Oklahoma City was initially founded on a great river. I've said it before a thousand times..the people who did the initial planning for OKC were probably the best planners in the entire World. OKC had an extensive streetcar network ALL the way from Capitol Hill up to Jefferson Park and the Paseo, a boundary parkway (Grand Boulevard), they had planned for a grand arch over Lincoln Blvd by the Capitol, and we had one of the best urban riverfronts in the country--complete with a zoo, a beautiful central park, and a historic boardwalk (if you want a ton of great pics of the old park, check out
Doug's blog
). OKC was the place to be after the turn of the century! What happened?
Severe flooding did in the North Canadian River. In 1953 the U.S. Army Corpse of Engineers dammed it up and dried it out so that it would never flood all of South OKC again. Now South OKC was without its river, and shortly after that Crossroads Mall came to speed up the decline of Capitol Hill and other once-great South OKC districts. Fast forward 50 years...in the 80's there was the "Strings of Pearls" plan for riverfront redevelopment..in 1993 Mayor Ron Norrick envisioned a riverbed that had to be mowed twice a year would become a community platform..and in 2004 we got our river back.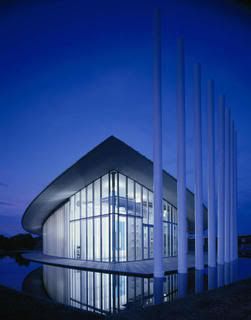 In 2007 consummate Oklahoma architect Rand Elliott made national splashes with his award-winning design for the Chesapeake Boathouse; the concept of high-end sculling facilities on a treeless river in Oklahoma drew the interest in dozens of distant media outlets. Rowing, boathouses, regattas, and crews had had become reserved for the Northeast..and only the most elite Ivy League-country club circles of the Northeast..so what was Oklahoma trying to do by envisioning a whole regatta district? The idea seemed so out of the box that many were willing to give it a shot. Olympic Trials came to OKC, national regattas came, other water sports came (some, such as the Triathlon..might have been a bad idea), and soon enough the Oklahoma City Boathouse Foundation had a year-round schedule of major events. Many of these events have grown to draw several thousands of people to the Oklahoma River shores south of downtown. I like how the magazine
Architectural Record
puts it:
"The Chesapeake Boathouse has little in common with the traditions called to mind by Philadelphia's Schuylkill River rowers forever in midstroke in a Thomas Eakins canvas. Rather, Elliott addresses the tricky architectural issue of origin head-on: through a deft evocation of our modern fascination with sport and speed, mingled with Oklahoma City's very real, shared civic desire for reinvention, in lock-step with the city's larger ambitions to shed its Dust Bowl image."
The lone Chesapeake Boathouse would be a major success for three great reasons: 1, the fantastic design that won many awards and came to represent OKC's ambitions to reinvent itself; 2, the audacity of bringing crew sports to Oklahoma and turning into a major spectator event for people from all walks of life, completely reinventing the sport as it had been known in the Northeast; and 3, the excellent execution and leadership of Mike Knopp and Ron Norrick who have wowed Oklahoma City with their vision for a unique river unlike any other. As a result of these things, everything culminated in just the right way..people involved in national regattas were interested to give it a shot, the people of OKC have been impressed, and the business community has come together behind the vision. In many ways..this is a brilliant continuation of the Maps legacy..the people coming together and doing something bold to reinvent OKC. Doesn't get any better than that.
Then someone along the line must have come in and asked the question..what if we had more than one stunning facility here on the river? That's how this project got to be big. Really big. People began to realize the magnitude of what we were working with on the banks of a diverted river that had to be mowed twice a year not long ago..that used to be located in the most blighted portion of a very run-down city..that used to be where gang members would always go to dump the bodies..it was (and still is) a nightmare trying to navigate one-way roads in order to get from core-to-shore. Is the magnitude of the plan any greater when you consider what a change it is from the old status quo? Who knows..that sort of thing only matters a lot to me, but the bottom line is that OKC can become synonymous with crews and regattas and water sports of all kinds and this can legitimize Oklahoma
"City"
for good.
Enter
OU
,
UCO
, and
OCU
. (Where is
OSU
?) Enter
Olympi
c Tr
aining Center
. Enter
Chesapeake Finish Line Tower
. Enter the
American Indian Cultural Center
. Enter
Core to Shore
and
other development
. Enter
Maps III ideas
. Now the picture is getting crowded, but we're seeing a cadre of exciting things happening all along the river.
All of these facilities are much, much, much more than just boathouses. Ironically, the one I know the least about is the OU Boathouse, which is the one with red poles, obviously. I can say that obviously it will be the home of the most-major collegiate program coming to the banks of the Oklahoma River.
Other collegiate programs are UCO and OCU that are both going to have collegiate NCAA rowing programs, all three of which will be based here. The OCU Boathouse, which is the two-story one (and the largest) with blue poles, is 34,000 sf total (about twice the size of all of the others, including the 16,000 sf Chesapeake Boathouse) and comes with the most innovative rowing features ever built. It will be of use to the OCU crew and Olympic athletes training in OKC. Both the OU and OCU projects are expected to be finished within 60-90 days of eachother in Fall 2010.
The UCO Boathouse will be the second largest facility, at 27,000 sf, and it will include art gallery space, a UCO Jazz Lab location, and the UCO rowing team's high-performance training facilities..not sure the exact projected completion date for UCO, but I know it is supposed to begin soon after OU, and I assume its construction phase will outlast OU's since it is a much larger facility. When these projects are finished there is another impressive slate of huge national and international events planned for the river that will put these facilities, and OKC's bolstered river amenities, to the ultimate test.
To sum up what's in play, I like what Glenn Merry, the CEO of USRowing,
said upon visiting OKC
for the Devon Boathouse (OCU) groundbreaking.
"I think it's beyond unique," Merry said.

In some venues back East, rowing is thought of as an elite Ivy League sport, he said. Oklahoma City, however, has been able to attract 30,000 to 40,000 people from "all aspects of life" to its rowing regattas.

"I think Oklahoma City has a larger vision than anyone else," Merry said. "It's pretty exciting what's going on here."'
I agree, it definitely does seem to be a larger vision than anyone else, taking an elite Ivy League sport and sticking it in the middle of Oklahoma as a spectator phenomena that is unique. Exists nowhere else. Shifting gears, you know what could make this even better? Reminding people that they are A, in a city; and B, in
Oklahoma
City. That means speerheading urban redevelopment projects (Core to Shore), and the completion of a new state-of-the-art museum across I-35 (the American Indian Cultural Center).
Capitalizing on all of the momentum in downtown and along the Oklahoma River is the daring initiative to redevelop the 600 or so acres in between the current I-40 route and the Oklahoma River. By reallocating I-40, at a whopping cost exceeding $600 million, there will be much more room to move around and develop south of the downtown core. To push for the "right development" the city is prepared to use Maps III to invest $100 million in a new downtown central park modeled after
Chicago's Millennium Park
, a new $250-300 million convention center, and a "landmark boulevard" to replace the current I-40 that would be something like an OKC version of the
Champs d'Elysees in Paris
. The result--an expected windfall of thousands upon thousands of residential units, hundreds of new shops and restaurants, and additional office towers. In essence..a new downtown. The mixed-use development doesn't stop there.
In fact the first mixed-used project to be proposed south of I-40 is Grant Humphreys' Downtown Airpark redevelopment, which is actually just outside the C2S impact zone. Located on the south bank of the Oklahoma River, at the Western Avenue bridge, this mixed-use project includes several mid-rise buildings that frame waterfront amenities like open greenbelt, an inlet lined with boat docks, a boardwalk, river trails, and a famous lit-up ferris wheel. Behind the mid-rises is a mixed-use village of shops, apartments, and townhomes. To me, this is a perfect first example of how a large-scale development can set the tone for future development, with its own river amenities, a unique aquatically-oriented urban community, and a site layout that comes right up to the river and frames it with as many different uses as possible--you've got recreation, shopping, dining, and living all within feet of the river.
Another project that makes really cool use of its site on the river is the American Indian Cultural Center. The 300 acre site donated by the City of OKC will have a state-of-the-art Smithsonian-affiliated museum, several prominent promontories that will have excellent views of the AICC, the river, and the rest of OKC, a 200-room tribal resort hotel on the riverfront with a conference center attached, and a 150-room "full service motor hotel" (I guess kind of like a Holliday Inn?). The meticulously landscaped grounds will include 3 separate Oklahoma ecosystems..prairie, woodlands, and wetlands.
These guys have (unfortunately) ran into multiple funding snags (their private fundraising must really suck, and what about all of those windfall profits the Indians are making from their beautiful shiny new casinos?) but it looks like they'll receive some State funding, and maybe even some Maps III funding if they can get their hands on it..and they'll be completing this project (originally scheduled to open in 2006) eventually. It's probably a good news that as I type, they're finally beginning to plant grass along all sides of the crescent-shaped mound that is the centerpiece of the project. Despite their incompetence during the fundraising and construction phase, it will be a very cool attraction to have come to OKC. This will really add a lot of diversity along the river and bookend a huge list of new attractions, and maybe even landmarks, along the Oklahoma River.
As all of these exciting things culminate, and OKC undoubtedly becomes a "Big League City," one must ask..where does this leave us? I think that there are some obvious question marks that are left open when it comes to the river and all of these plans. The first one, is how is someone supposed to get from one stop to another? I seriously doubt that the Devon Discovery watertaxis are going to work in getting someone from a restaurant at the airpark redevelopment site, down to Stockyards City, or over to the AICC, and then back to see a regatta at Boathouse Row. There is going to be a reevaluation of the street grid in that area. First, there will need to be a street that links the AICC, goes over I-35, and links potential Maps III Boathouse-related stuff on the south bank of the river. Then the bridges needed by reevaluted. Something that is more iconic is needed, even if it's just installing LED lights such as with the Byers Avenue bridge. Perhaps a streetcar system might be a good investment just for the river, or include it in a city-wide light rail system that goes outside of just downtown, but these are ideas for further down the road.
Then there is the obvious. The river is becoming naturally hazardous. It's not a natural river, so it isn't able to drain off pollution such as animal fecal material. This makes it a bad, bad, bad idea to have swimmers in the river, such as with Triathlon events (
that made national news..eeek
). Maybe the whole treeless river lined with granite and completely unnatural thing isn't working out after all. Either this river can never be used for Triathlon events, or someone will need to plant some trees, swap the granite for some tallgrass, catgrass, mossy stuff, weeds, and whatever else you would normally find along a natural riverbed.
So much progress has been made out of such an unlikely venture. OKC isn't much different than it was 10 years ago even though its economy is much better, but in the next 10 years, OKC might come out of this a much more cosmopolitan and prominent "Big League City" that people all over respect. This has afforded civic leaders an opportunity to develop a world-class city that is similar, but different than the opportunity that each preceding generation has had. Everything has led up to this. The first generation built and designed a fantastic city, that was basically brilliant. The second generation had bold plans to add a futuristic touch to the center city and ended up screwing everything up. Those wounds have healed after a lot of hard work in the last 15 years, and it's time to forge on! We should head history's lessons, but strive to be unique at the same time. I think that this is what we've done. As long as the LOCAL economy doesn't tank on us, I think OKC is jet-set to become a world-class city. All of the potential is here, that is for sure. At the least, if someone can consider Denver, St. Louis, or Indianapolis world-class, they will be able to consider the OKC of the future just the same.