Interesting dilemma here, and before we start, let me say I am staunchly in favor of reevaluating the definition of historic preservation so that it evolves over time. I believe that as we progress, history progresses. Go 20 years, open up another 20 years of history. So for example, we get to the issue of these mid-century modern buildings (which many still think are truly ugly design, although many others are now beginning to catch on) by way of Historic Preservation statutes applying to buildings that are over 50 years.
I think many of us are still thinking in terms of the 1990s and the 2000 switchover. While you guys have been spending the last decade fretting over an apocalyptic Internet file breakdown, the rest of us have been adjusting our paradigm to reflect the changing issues. I think that there are a lot of things that you could apply this to, not just preservation, but undoubtedly, having a "2012 mindset" is something that does not apply to most people. THAT said, in the 90s and early 2000s, the "newest" architectural epoch that we considered historic was Art-Deco. And there are still many people who probably view Art-Deco as the last great, preservable historic architectural style.
But immediately after Art-Deco was mid-century modern, which has just now become eligible as historic. In Downtown OKC, here are an example of two buildings that either were renovated using historic tax credits or will be:
The Park Harvey was renovated circa 2006 (if memory serves correctly), and also built in 1956-57. This 17-story building has 162 living units, and stellar occupancy rates despite no parking arrangement! It was also renovated using historic tax credits, and I don't think this is a bland project at all. It's not brick, and it's not EIFS/stucco--so it stands out on that count alone among new housing projects downtown. I think this building is a locally-significant example of mid-century modern that proved worth preserving. I think it could use some lights or more interesting signage, but that's not dire.
Then, there's the old downtown library, which is currently set
to be renovated by Judy Hatfield
. This project has been significantly revised--originally, she was going to do significant facade improvements to update the look of the building, but now she is in need of historic tax credits in order to obtain financing to pull the development off in the first place. In order to receive these tax credits, she can't really alter the building that much, although it's unclear to me if there's any wiggle room regarding historically-accurate interpretations. The problem this building has its blank wall facing Robinson, which is arguably its most important vantage point (this will be viewed by passersby on the streetcar). She is adding a FEW windows, but I think more could be done, and within the purview of historical accuracy, to still qualify for the historic tax credits.
There's no way around. That's an ugly building. People were shocked when she bought the building before the 2008 bust and announced that she would be keeping it, and renovating the facade. In hindsight, that was a great plan, as its a very sound building--facades can be changed. I actually really liked what she had proposed, as well, although now not so much. I don't doubt one minute that average Joe will look at this and think, "Historic?!?!, huh?"
Now the state legislature and cities are in an ongoing battle over these tax credits.
Here Cathy O'Connor
outlines the city's position on why these tax credits are so valuable. So what do you guys think, and what is the best way to preserve the historic preservation tax credits, or are they history in this Republican-controlled legislative agenda?
Here are some more examples of mid-century modern, which frankly, is more of a Tulsa thing than an OKC thing, and as you can see, it can really run the gamut from the mundane to the monumental.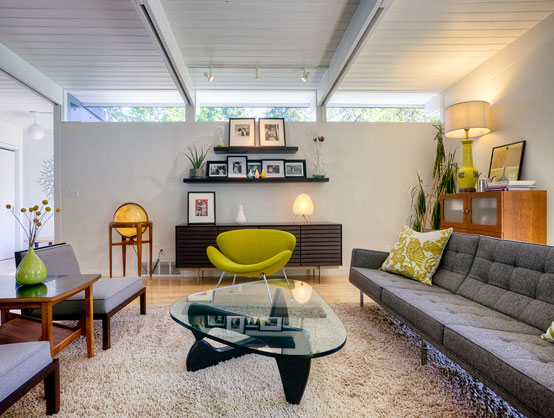 Check out what is being done to Tulsa's former City Hall Plaza, which the Snyder family (Brickhugger LLC) is renovating into an Aloft Hotel.
For some valuable resources on modern architecture HERE in Oklahoma, check out the
Tulsa Modern blog
or the
Oklahoma Modern blog
. The Lortondale neighborhood in Tulsa (around Yale and 41st) is one of the best contiguous examples of mid-century modern that is still extant. Although, my favorite rehab project done in these kinds of buildings is by far the
Mercantile Place development
in Downtown Dallas.