Anyone who has been following any Jenks-related news in the last few years has to be pretty impressed. It appears that the small town of Jenks, once known for being the "Antique Capital of Oklahoma," has come out of nowhere and seized its place as a venerable contender in economic development. While the 2000 population of Jenks was 9,557, the town has always had a larger footprint than that for being on the edge of Tulsa, and for its top-notch school system that extends covering a lot of area on the Tulsa side of the Arkansas River. Now though, Jenks is making a play at becoming a full-circle community, known for more than just antiques and its high school.
Three major lifestyle projects are underway in Jenks right now, at a time when almost all of the other lifestyle projects across the state have been canceled (having a $96,000 household income in a 3-mile radius would probably help that a little bit). The lifestyle projects are RiverWalk Crossing, the River District, and the Village on Main.
RiverWalk Crossing actually happens to be mostly finished. Back in 2004 the first phase was finished, with several restaurants along a promenade fronting the Arkansas River, a cinema complex, a Holiday Inn, an amphitheater area, as well as 110,000 sf of retail and office. They also
just began
on the second phase, which was long-delayed after Stillwater National Bank dropped out as an investor, which they've now been replaced by American National Bank of Texas.
The $50 million second phase will include 125,000 sf of retail and office, as well as significant housing additions, broken up into two sections. The retail/office is combined with a 207-unit luxury apartment complex for the "RiverWalk Village" component, and then adjacent is a 6-story 50-unit condo project called "RiverWalk Lofts" that will begin construction later. More phase two info
here
.
The River District is definitely the big kahuna. This project has already been delayed, but now they have decided to proceed forward in stages (as opposed to doing it all at once). It has already broken ground and work is fixing to resume soon. It's development cost will be around $800 million, with over a million sf of retail and restaurant, another million sf of office space, 500 residential units, an upscale cinema component, as well as a hotel and conference center. It will be the complete package.
The River District is probably, by far, the best example of a new-urbanist lifestyle center coming to Oklahoma. With several million square feet of development and an urban layout, this has to be considered the class of lifestyle projects. That said, it's interesting that the developer is the same as much of Lower Bricktown. Go figure.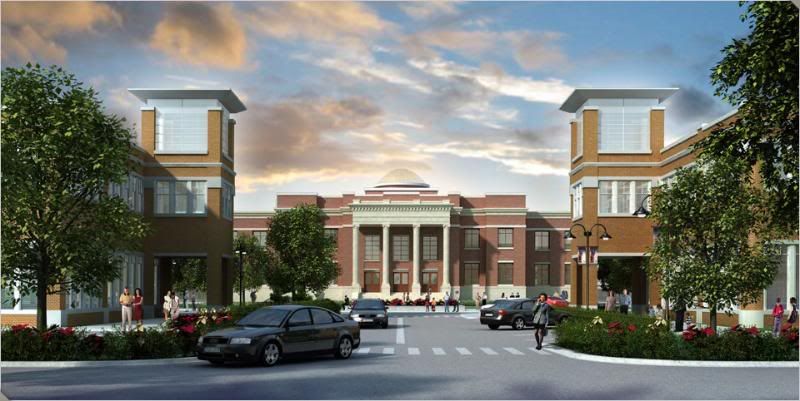 Another project closer to downtown Jenks (right across the Creek Turnpike from the River District) is the Village on Main. The triumphant planning feature of the $60 million Village on Main project is that it is virtually designed to feel simply like an extension of Main Street in Jenks. The developers
have said
, "The Village on Main is the integral piece that
connects the Oklahoma Aquarium, RiverWalk Crossing, Historic Downtown, River District, and Riverview." The Village will feature over 420,000 sf of space, including a 22,000 medical office building already under construction for the Utica Park Clinic in Tulsa. Overall the project will feature 150,000 sf of retail and restaurants, 140,000 sf of new offices, at least 100 residential units, a 100-room boutique hotel, community events center.
What's surprising is the small, compact core that all of these projects are going in. They're all practically adjacent to the new Oklahoma Aquarium, the Creek Turnpike, the Arkansas River, and downtown Jenks, one known for its antique stores, but now known for its lifestyle centers going up. Jenks, which was recently one of the Top 2 fastest growing cities in Oklahoma, may have only had 9,000 in the 2000 census, but now it is a big-time contender (that's taken a lot of Tulsa's economic development). Jenks is the model of how even a suburb 10 miles downstream from downtown Tulsa can have positive growth.