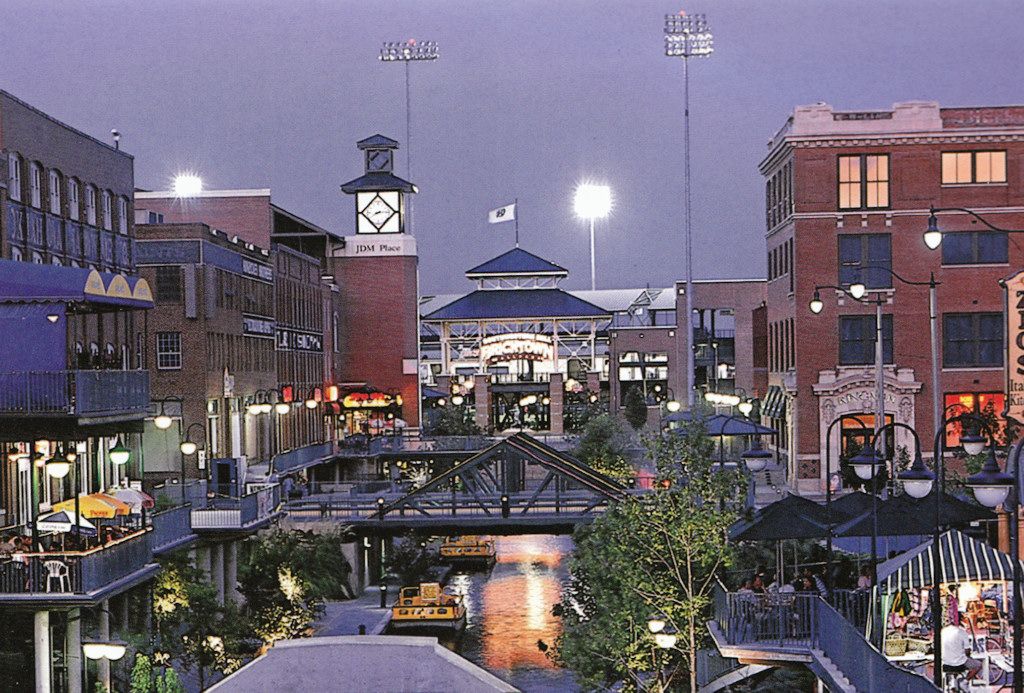 (credit
Doug Loudenback
for pics)
Just look at the difference between 1997/98 and 2003/04; the difference that about 5 years made in Bricktown. In the top picture, you see no canal, and just absolute blight, yet the Bricktown Ballpark is under construction at the end of the ally, which does provide some sort of time stamp on the picture. In the 2nd pic obviously the Canal is finished and the area has opened up with new businesses. It's like an episode of Queer Eye for cities, and I can just here a lisp saying, "from drab to fab!" Sorry, I just had to go there in reference to
OKC's gay community leaders
recently endorsing MAPS.
1993: OKC's economy is sinking, things are getting worse. The entire center city was in shambles from urban blight. In order to improve OKC's situation, OKC leaders decide to lure employers with wads of cash to come to OKC, but not even that would work.. they just flat-out did not want to come to OKC. In one of these failed deals, the city offered major incentives to United Airlines to put their maintenance center here, and UA turned it down and took a less impressive offer from Indianapolis because, "nobody would want to live in a place like OKC." (That was a news headline.)
2009: The rankings speak for themselves.
#3 on
BusinessWeek's Forty Strongest U.S. Metro Economies
#1
on Fortune Magazine's list of best places to start a business
Top 20% of all
metro's in GDP growth, U.S. Dept of Commerce
28 of the nation's 500 fastest-growing companies
Top Ten in
BusinessWeek's Strongest Housing Markets in the U.S.
#1 on
fastest-growing per capita income for a large MSA, U.S. Dept of Commerce
#2 for
volunteer hours, #7 for overall volunteerism among major U.S. metros.
#4
Best Undervalued Place to Live, U.S. News & World Report
#8 for
Indeed's Best Cities to Look for a Job
#2 on the
Brooking's Institution's list of best-performing cities
during the recession
#4 in ArtBistro's
Top 25 Cities for Artists and Designers
#4 for
WomenCo.com's Best Cities for Your Career
#1 on FDI's (Foreign Direct Investment) on list of most cost-effective large cities
#1 on
BusinessWeek's most affordable major metros
Top Ten, Mat Hoffman Action Sports Park on
National Geographic's Ten Best Things for Families
#37 on
The Sporting News' Best Sports Cities
(Toronto is #36, Austin is #38)
#28 on the
Today Show's Best Places to Raise a Family
#7 on
Forbes' Top Ten Cleanest Cities
#4 on
Forbes' Best Cities for Commuters
#1 on
Forbes' Most Recession-Proof Cities
#4 on
BizJournal's 10 Least Stressful Metros
That's not to say that the work is finished. The momentum is still strong, there's still progress to be made, there's still room for improvement. The new frontier for downtown will be along the Oklahoma River, an area that has also seen a drastic facelift over the last decade. Will the progress during the 2000s be the end of the road for the Oklahoma River, or will development of the area along the river be a headliner going into the 2010s? Only time can tell. By Tuesday, we'll have a clearer idea of whether OKC's going to continue at the current rate (or slow down), or if we build onto the momentum.
Images, credit OKC: 2nd Time Around by Steve