Jacksonville, FL: City pop -- 807,815. Metro pop -- 1,313,228.
Ever wonder about Jacksonville? Well, they wondered about us.. a really spiffy Jacksonville blog wrote
a glowing review
of OKC's urban rebirth, focusing on MAPS and the passage of MAPS 3. They made some key comparisons to OKC, comparing things like sprawl, density, convention center, infill obstacles, walkability, etc. They even mentioned two blog posts of mine, so that's kind of cool.
I hope that Jacksonville can take a few positives out of our book and put them to good use. And I hate to say this after the glowing review that a Jacksonville blogger wrote of OKC's progress, but I think that Jacksonville presents a really good case example of what not to do for OKC. I think that the two are incredibly similar cities, just that one is moving in the right direction, the other not so much.
As OKC continues to sell out Thunder games, Jacksonville is losing the Jaguars.. they will probably fill LA's new football stadium once it is finished in 2-3 years. Jacksonville is also highly sprawled, and probably getting worse--with the advent of flashy new urbanist town centers and a development boom along Jacksonville Beach, well east of the city core, distractions from downtown abound. If OKC had not passed MAPS this is exactly where we as a community would be. Granted, the Jacksonville economy is better than ours was in 1993, and they are growing at a faster pace than us -- typical for cities in Florida, which Jax is easily one of the more traditional cities in Florida (not as flashy and fake as Orlando, Miami, and Tampa).
Jacksonville's convention center is even more inadequate than ours. Their downtown transit is a joke, because not only do they have Oklahoma Spirit Trolley lookalikes roaming the streets empty, they've also got monorail. Monorail is a funny concept because at first blush I can get over my initial skepticism over monorail and understand why a city like Jacksonville would go with that. Being a city divided by the St. John's River, it makes sense to bridge the urban area with elevated monorail. Where things go wrong is with the implementation on the street level though. Little Rock, another town that bridges a river with rail transit, chose streetcar instead and has gotten far more positive results. Compare the two:
Look at all of those people on the sidewalks of Little Rock trying to board the streetcar! That just screams success from an urban planning standpoint. Pat yourself on the back, Little Rock.. I pretty much do nothing but praise thee on this blog. Jacksonville, on the other hand, not so good to say the least. Transportation officials predicted that the Little Rock system would have
1,000 riders a week
(found on a website with an incredible anti-rail bias), it ended up having over 3,500 passengers a week according to that source, and 2,900 passengers a day according to
this source
. Jacksonville has
1,700 riders a day
but even if it did or didn't have more riders than the Little Rock system, you wouldn't know it because none of it is at the street level. A monorail system is the same as our Underground, in that it gets pedestrians from point a to point b across downtown and keeps them OFF the streets while doing it. A horrible idea. For Jacksonville, it's been a failure, because they could have done a streetcar instead.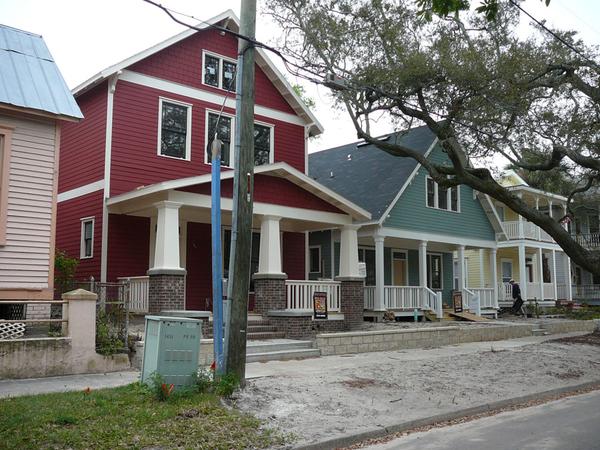 Downtown revitalization wise, Jacksonville has one really cool area called Springfield, north of their downtown area, which you can
read about
on the same blog. This area is really unlike any of the downtown OKC neighborhoods, in that this is more single family housing. I would say it's really comparable to perhaps The Paseo/Jefferson Park area of OKC (except that it's not as hip as The Paseo) or more closely resembles a smaller-scale version of
The Heights
in Houston. The problem with it is that non-walkable arterial streets cut it off from the adjacent downtown area, so there is no flow and downtown Jax doesn't feel the progress. Downtown Jax itself is full of grit and wear, very few restaurants and lofts and stuff of the sort compared to OKC, although 60,000 people do work there during the day (more than OKC, which is around 50,000). So much potential exists in some of their downtown neighborhoods, such as La Villa, for downtown loft conversions, much like we've done in Deep Deuce and Automobile Alley in OKC.
I think that eventually cities that have the potential to be great urban gems find ways to get there. Jacksonville will find a way to take advantage of its historic inner city, it just needs a new coat of varnish and a few bells and whistles. Cities like Jacksonville that are still growing can always begin to do things right, any time they chose. It's not like Cleveland or Buffalo where your resources are highly limited and you can literally only do so much. Cities like Jacksonville, Little Rock, and OKC have limitless potential because they are still growing and economically strong, BUT they aren't the vapid sprawl cesspools that places like the rest of Florida, Arizona, LA, etc have become.. All Jacksonville needs to do is get people to fall in love with downtown again, as people in OKC already have.