Omaha, First National Tower
In 2002 Omaha's 663-foot, 43-story First National Tower was built, earning numerous design awards, including Emporis' 2002 Skyscraper of the Year Award. The tower can ironically be seen across the Missouri River region and from corn fields in both Iowa and Nebraska. The tower, which became iconic of all things Omaha, was the first of recent changes to Omaha's skyline.
Louisville, Museum Plaza
Proposed last year was Louisville's Museum Plaza, a 703-ft tall glass and steel monolith that defies traditional design wisdom. The 63-story tower comes with the projected price tag of $495 (about 3/5ths of Devon) for 1.5 million SF of mixed uses (hotel, office, and residences). The national reaction to this project is primarily negative, while Louisville's local reaction is still mixed. The inspiration for the project was to take the skyscraper back to industrial roots.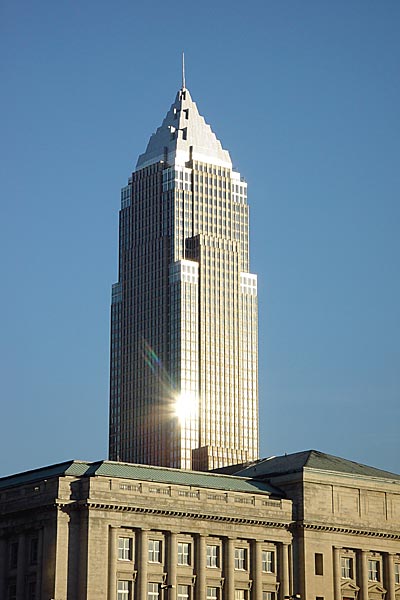 Cleveland, Key Tower


At 947 feet, the Key Tower was one of Cesar Pelli's early masterpieces that became the launch pad of the famous architect's career of building landmarks. The tower sort of matches the gothic look of Cleveland's skyline, which is dominated by soaring Art-Deco buildings with small footprints. Originally known as the Society Center, the building has undergone 3 different ownership changes. Between its construction in 1991 and the Comcast Tower in Philly (2007), it had the distinction of being the tallest tower between Chicago and NYC. With 1.5 mil SF, it's the USA's 17th tallest tower.
Nashville, Signature Tower


1,030 feet is all you need to know about this one. When announced in 2005 it shocked the design community as it will be the tallest tower in the Southeast. While it's still debatable if the tower will be built, scalebacks in how the condo floorplans are divided will set back rising construction costs, however nearly half of the proposed units have already been presold, lending a strong degree of likelihood that the tower will be built.. Not to mention that the FAA has recommended that the height not exceed even half the proposed height (while there are towers taller than 515 feet in DT Nashville), however the Metro Nashville Airport Authority has lent its support to the project. The cost has been estimated at $250 mil, far far less than that of Devon Tower.
OKC, Devon Tower


How do you think Devon Tower compares? 925 feet, $750 mil, 2.3 mil SF (total), 54 floors..